It's been a crazy busy week so far here. Were supposed to get temps in the mid 60's today so excited about that...
My plan for today...
Breakfast- 1/2 C Low Fat Cottage Cheese and Strawberries
Snack- Sugar Free Jello
Lunch- Lean Cuisine (not sure what kind yet)
Snack- Sugar Free Jello (I love Jello)
Supper- Small chicken breast,Salad and Cauliflower
LOTS AND LOTS OF WATER!
I've drank more water the last few days than I have in MONTHS (combined)
With having such nice weather today I plan to get out and WALK WALK WALK! Especially since I live in OH its going to be about 66 today but the way our weather is it could be snowing tomorrow.
And with that being said I wanted to share something I love....
I'm not the most coordinated person! I'm such a klutz!
But on days I cant get out and walk I really enjoy doing Leslie Sansone's : Walk Away the Pounds Express
Very easy to follow and pretty fun. I always feel really good after doing the video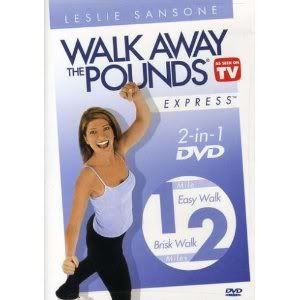 If interested in purchasing I found really cheap at Amazon and the shipping is really reasonable.. Here's a link
http://www.amazon.com/gp/offer-listing/B0000A59W5/ref=dp_olp_new?ie=UTF8&condition=new
Well off to get kids up for school and get my day started. Hope to post again later tonight...
Until then,
HUGS AND LUV
Jacki